I am alive is a survivor horror game made by UBISOFT, yes if you know this video game company, you know they made a pretty good job on their work like Assassins creed and Far Cry plus not only that they have the most anticipated game this coming November which is Watch Dog. Well anyway let's get back to the topic. Well the hero is unnamed, sadly I don't know what his name in the game if I'm not mistaken he didn't mention his name. The US was been hit by mysterious disaster that they called "EVENT" which is Earthquake, the unnamed hero was trying to find his way back to his wife and daughter in Haventon (Fictional City). This game is a 3rd person game but when you're going to aim using your bow or rifle it will become 1st person view.
The Graphics of this game was awesome, yeah for me it's clearly that they made a lot of work on the environment of the city but the animation is bad as hell especially the speech animation cause it's not synchronize with English speech furthermore the action animation is bad also. The sound effect was fine and also the voice actor.
The gameplay of this game was more on traveling on wrecked city, rescuing or helping the survivor citizen and beating those mean people. The stamina can be draining by climbing, running and other activities like entering in covered dust. When Stamina is depleted don't worry the capacity of your stamina will begin to decrease but don't worry stamina can be regenerate by an item or by doing nothing. Health can be regenerate by an item. When you encounter survivor some of them are friendly, hostile or territorial, some of you might wondering why they are acting like that but if you played the game enough time you will understand why they act like that. The game on PC has 3 difficulty (EASY, NORMAL, SURVIVOR) not sure about other console. 
Good : Environment, Story
Bad : Lack of gameplay, animation, pointing the gun when aiming, short story.
Overall Score : 6/10
About me in game : I have a fear of heights so I'm getting freak out in some situation when I'm looking down on the surface cause I feel like I'm going to fall LMAO end up of saying
foul words
. The reason why I played this game because my internet connection was been cut because my mom paid a wrong month not the latest one well anyway let's get back to topic. I played the game in
Survivor Mode Difficulty
. Everytime you played a hard game you must be very careful or else you end up dying or gameover, trust me if you rush this game you're gonna die instantly think twice before you act, read the surroundings. I died twice in this game because I panic on the falling object cause you need to climb on that falling object to be able to finish that episode. you can see the death on the figure's below. About help victims, It should be 15/20 I'm just getting lazy to go to that 1 survivor cause I don't want to stay in heavy dust anymore so I ignore that victim and proceed to my mission about the other 5 remaining, I don't know where can I find those remaining victim, I just proceed until the end game. The only item I use is water, soda, fruit cocktail and food can, that why I got Humanity not sure about moral high ground maybe I'm just ignoring those territorial people then about bravery you just need to continue to play Survivor Mode until the end of the game without changing the difficulty.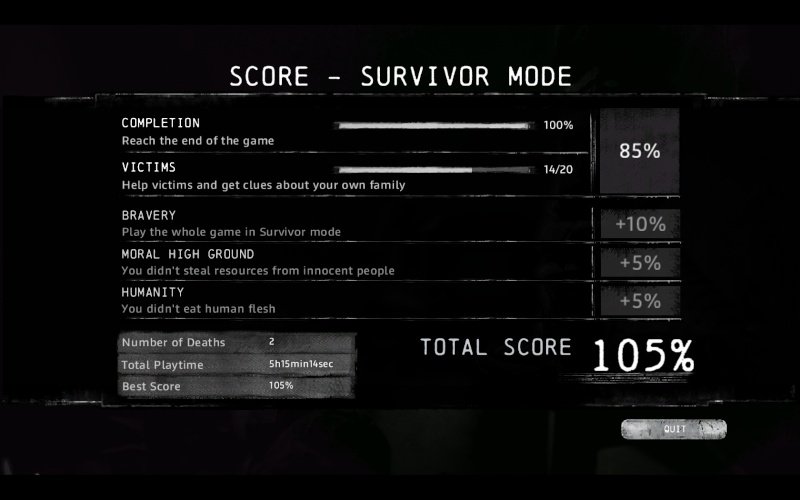 _________________
"If I can do it tomorrow I won't do it today"

Drazard

Posting Freak





Windows version

:


System architecture

:


Favourite games

: Rance Series, Harvest Moon Series, Sims Series, Elder Scroll IV : Skyrim, Xenogears, Armored Core Series, Monster Rancher 2, Grand Theft Auto Series, The Witcher Series, Assassins Creed Series, Final Fantasy Series, Metal Gear Solid Series, Total War Series, Dynasty Warriors Series, Pokemon Series, NBA 2k Series and Etc.







Posts

: 116


Points

: 3352


Join date

: 2011-09-02


Age

: 30


Location

: Philippines



---
Permissions in this forum:
You
cannot
reply to topics in this forum