Hello,
Although there is already a similar topic on this
here
, I decided to write a separate and more "updated" one. You can of course still try the solutions in that other topic, too.
In any way, for those of you having problems with an infinite "black screen" right after startup of The Sims 3, here are a few things to try and consider:
1) Have you recently, before this happened, downloaded and installed a sim, from whatever source ? Make sure to go to My Documents/Electronic Arts/The Sims 3/SavedSims and look for a file called downloadedsims.index. Please delete that file.
2) Go to My Documents/Electronic Arts/The Sims 3/DCCache and look for files with a .tmp file ending. Do you have files like that in there ? If so, delete them; it's safe to do so. These files are some sort of "backup" for the launcher, that are recreated every time you start the launcher basically. These files can clog up your game.
3) If you start your game from the TS3W.exe file (
usually
in C:\Program files(x86)\Electronic Arts\The Sims 3\Game\Bin), right-click on the file and select Properties (or you can do that with the TS3W.exe shortcut on the desktop too, if you have such a shortcut).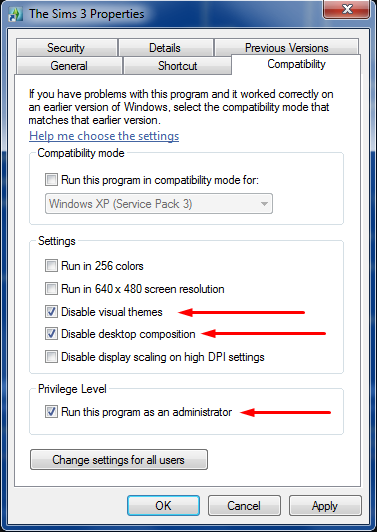 Mark the boxes pointed to with red arrows, and click on "apply", then "OK". The two upper boxes (disable visual themes/desktop composition) are especially important should your computer be weaker.
4) In 
[font=Verdana,Arial,Helvetica,sans-serif]My Documents/Electronic Arts/The Sims 3/ there should be a file called options.ini. Open the file and look for fullscreen = 1. You should try to change the line to fullscreen = 0. Of course, you need to "save" the file then (exit the file and if you are prompted if you want to save the changes, click yes). This means your game will start in "windowed mode", and not in fullscreen anymore. Keep in mind though that this step is an optional one, to be tried after the previous 3 steps failed.


5) Try lowering your computer screen's resolution.


6) Finally: do you have any conflicting (core) mods ? Please make sure that ALL your mods are up-to-date and that there are no conflicts between the mods. At this point I cannot give you more detailed information about mod conflicts, which means you may have to do some research yourself. You may try removing one mod, starting the game, seeing if it works, then removing the next one, and so on. That way, most incompatible mods can be filtered.

After you made sure that all your (core) mods are OK, please delete the scriptCache.package file in My Documents/Electronic Arts/The Sims 3.


And that should do for now - I hope this will help you ! Again, focus in particular on steps 1, 2, 3, and 6. The steps 4 and 5 are more or less optional steps, should nothing else work.




DO NOT POST ANY QUESTIONS OR PROBLEMS IN THIS TOPIC. INSTEAD, PLEASE OPEN A NEW TOPIC IN THE APPROPRIATE FORUM-SECTION, EITHER "THE SIMS 3 DOWNLOADS SUPPORT" OR "THE SIMS 3 IN-GAME SUPPORT"! THANK-YOU-NOTES CAN BE POSTED IN THE SECTION WITH THE SAME NAME.

Note that any and all questions posted under this thread, will be deleted without any explanation or advance warning. We have the Forum sections dedicated to Support purposes, for a reason.
_________________

Forum Rules // Forum FAQ // All G4TW Downloads // G4TW The Sims 4 Gallery Collection // How YOU can help seeding!

How to install The Sims Medieval // The Sims 2 Overview // How to install The Sims 3 // TS3 DLC install checklist // How to install The Sims 4

Feel free to e-mail me for general questions & site navigation on G4TW! NO GAME SUPPORT THOUGH.

The_gh0stm4n

G4TW ETERNAL Gatekeeper
Inspector General / Platform Sentry





Windows version

:

Windows 8
Windows 7
Windows XP
Windows 10




System architecture

:

32 bits (x86)
64 bits (x64)




Favourite games

: The Sims 3, L.A. Noire, Saints Row, Red Faction, Team Fortress 2, Overwatch, PvZ: Garden Warfare, Call of Duty: Ghosts, GTA: San Andreas, Counter-Strike, Hitman, Borderlands, The Binding of Isaac, Government simulation & Military strategy games, S.W.A.T. 4, GTA V / GTA Online, Red Dead Redemption II / Red Dead Online, Chessmaster XI, Monster Hunter: World.







Posts

: 18779


Points

: 25331


Join date

: 2012-11-02


Location

: Hermit Kingdom



---
Permissions in this forum:
You
cannot
reply to topics in this forum