Hello all,
Some mods for "The Sims 3" require you to download a (modified) Shaders_Win32.precomp file, which you then are supposed to place into your base game location, replacing the existing file. The base game location is usually in C:\Program files(x86)\Electronic Arts\The Sims 3\Game\Bin.
A possible consequence could be that, upon re-starting the game, you get this here, or similar errors. Especially if the mod isn't compatible with your current base game patch level.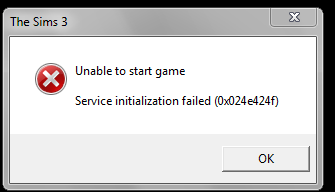 In the event that you haven't backed up the original file, there is an easy fix to that ! Simply re-apply the latest "manual superpatch" for The Sims 3. Get it here:
http://games4theworld.forumotion.com/t1870-can-t-update-the-sims-3-to-v167-fix-manual-patch
During the patching process, the file will be "re-created", and you're good to go again. In case you are using a cracked game, please refer to this guide here, and in particular to the steps #3 and #4.
http://games4theworld.forumotion.com/t1171-must-read-how-to-install-the-sims-3-correctly
One common "purpose" of these modified Shaders_Win32.precomp files is that they are supposed to remove the censor blur on Sims. But you don't need these modified files at all ! A really good alternative is this mod here:
https://nraas.wikispaces.com/Decensor
Just install the mod like any other "normal" mod. And that's it ! Good luck to you.
DO NOT POST ANY QUESTIONS OR PROBLEMS IN THIS TOPIC. INSTEAD, PLEASE OPEN A NEW TOPIC IN THE APPROPRIATE FORUM-
SECTION, EITHER "THE SIMS 3 DOWNLOADS SUPPORT" OR "THE SIMS 3 IN-GAME SUPPORT"! THANK-YOU-NOTES CAN BE POSTED IN THE SECTION WITH THE SAME NAME.

Note that any and all questions posted under this thread, will be deleted without any explanation or advance warning. We have the Forum sections dedicated to Support purposes, for a reason.

The_gh0stm4n

G4TW RETIRED Gatekeeper
Inspector General / Security Attaché





Windows version

:

Windows 8
Windows 7
Windows XP
Windows 10




System architecture

:

32 bits (x86)
64 bits (x64)




Favourite games

: The Sims 3, L.A. Noire, Saints Row, Red Faction, Team Fortress 2, Overwatch, PvZ: Garden Warfare, Call of Duty: Ghosts, GTA: San Andreas, Counter-Strike, Hitman, Borderlands, The Binding of Isaac, Government simulation & Military strategy games, S.W.A.T. 4, GTA V / GTA Online, Red Dead Redemption II / Red Dead Online, Chessmaster XI, Monster Hunter: World, Paint the Town Red, Destiny 2.







Posts

: 18957


Points

: 25804


Join date

: 2012-11-02


Location

: Liechtenstein / Switzerland / Austria



---
Permissions in this forum:
You
cannot
reply to topics in this forum