Hello all,
Some of you may have encountered an error in our SimCity4 release, that will look like this, or similar:
When you try and copy the crack-file included in the download, to the right location, it doesn't let you replace the existing file, even if you choose so. Now, when you try and delete the "original" file, you will get this error: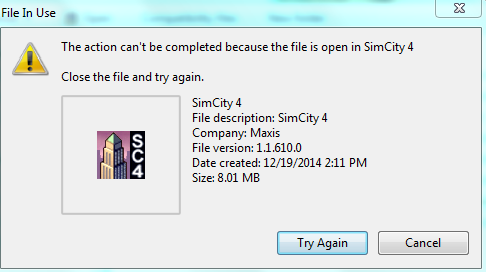 At this point, the guide I wrote 
in this other thread
 may not help you. So the next things you can try are these:
1)
Try logging in with the Administrator account on your Windows system. That is, if you are using another account than the Administrator. In my own system, I only have one account, and that is the Admin-one. While in the Administrator account, try applying the crack again.
2)
Should this still not work for you, try going to the location where the crack goes to; normally that should be C:\Program files(x86)\Maxis\SimCity 4 Deluxe\Apps. There, you
rename the original SimCity4.exe
, into something different. For example, rename it into
SimCity4(old).exe
.
Extra note: should you be unable to "find" the Administrator account (because it may be hidden), then just try this method of renaming the SimCity4.exe
straight away
! 
After doing that, copy the cracked SimCity4.exe from our download, to that location. Make a shortcut to the desktop from that file, and off you go ! You should now be able to play the game.
Good luck !
DO NOT POST ANY QUESTIONS OR PROBLEMS IN THIS TOPIC. INSTEAD, PLEASE OPEN A NEW TOPIC IN THE APPROPRIATE FORUM-SECTION, "NON-SIMS SUPPORT"! THANK-YOU-NOTES CAN BE POSTED HERE.

The_gh0stm4n

G4TW RETIRED Administrator
General of the Armies / Gatekeeper





Windows version

:

Windows 8
Windows 7
Windows XP
Windows 10




System architecture

:

32 bits (x86)
64 bits (x64)




Favourite games

: The Sims 3, L.A. Noire, Saints Row, Red Faction, Team Fortress 2, Overwatch, PvZ: Garden Warfare, Call of Duty: Ghosts, GTA: San Andreas, Counter-Strike, Hitman, Borderlands, The Binding of Isaac, Government simulation & Military strategy games, S.W.A.T. 4, GTA V / GTA Online, Red Dead Redemption II / Red Dead Online, Chessmaster XI, Monster Hunter: World, Paint the Town Red.







Posts

: 18943


Points

: 25581


Join date

: 2012-11-02


Location

: Hermit Kingdom



---
Permissions in this forum:
You
cannot
reply to topics in this forum