Hello all,
The following post will show you how to merge several different files with the .package file format, into one single .package. Those of you who might be familiar with earlier Sims games, like Sims 3, may still remember that having tons of .package file custom content can lead to performance issues in your game, and therefore it is a good idea to merge .package files, into one.
The following screenshot shows some random CC items I downloaded from
TSR
. I put them all into a folder named "New CC", located on my desktop:
The items consist of skintones, some wall tapestry, new clothes and a recolored piece of clothing too. Note that in general, you should only merge .package files of CAS items (clothes, skins, makeup, hair, etc.) and Build/Buy-mode objects. You should not merge any other type of custom content, and especially not mods - i.e. custom content that modifiy in-game mechanics. You have been warned.
Back to topic: I want to merge all these different .package files into just one single file. For that purpose, you will need the program "Sims 4 Package Editor" (a tool made by the "Sims4Group", located at the site "Simlogical"; all credits for the tool go to them). Get it 
here
.
The installation of the program should be pretty smooth, and once done, open the program: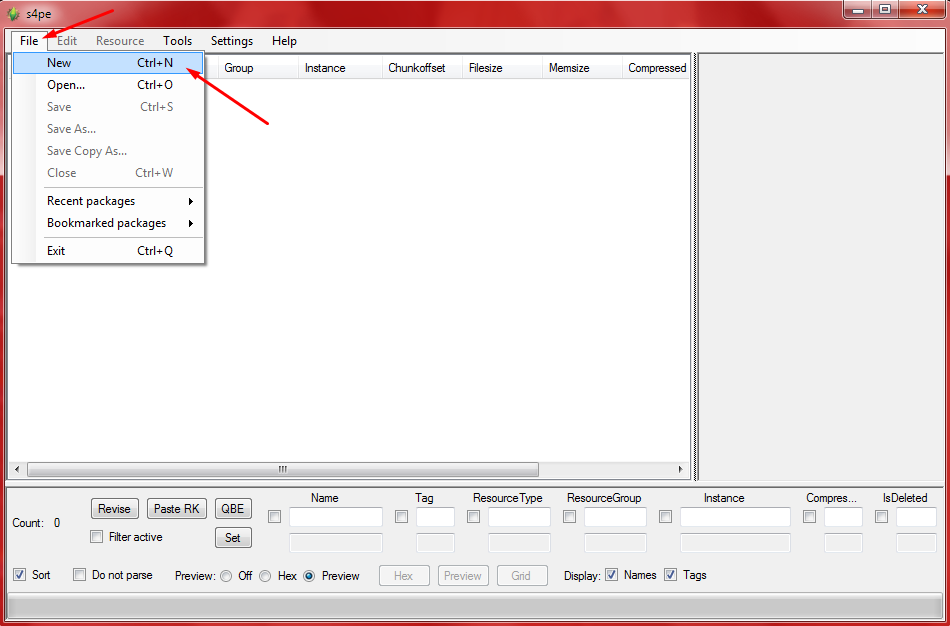 Click on "File" in the top left of the window, and then on "New" - or press CTRL + N straight away.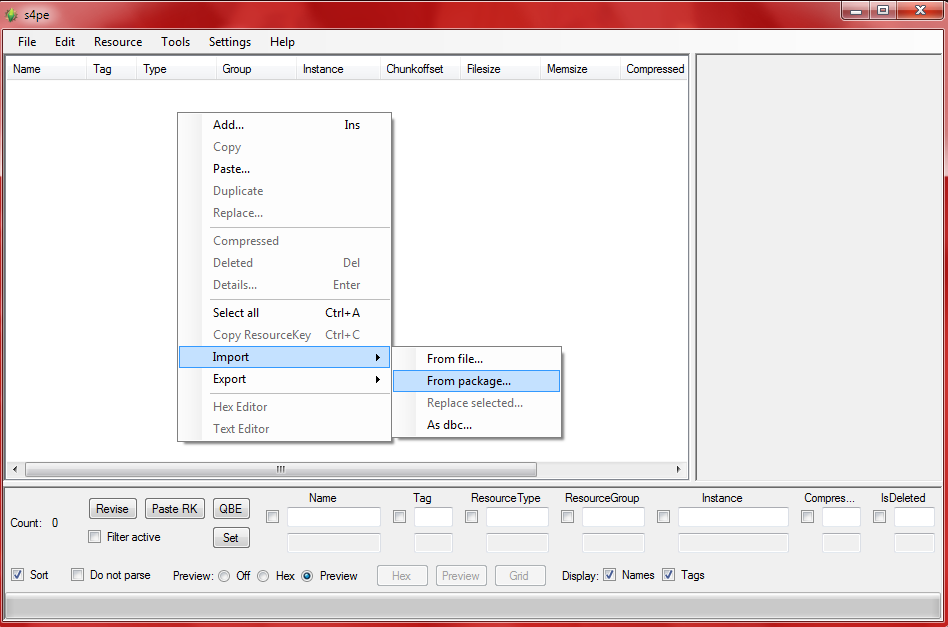 Right-click somewhere into the empty white space of the window and choose
Import -> From package
. 
Navigate to the folder where you have saved your downloaded CC. In my case - as mentioned already above - it's a folder named "New CC", located on the desktop. Now press either CTRL + A to select all items at once, or if you want several different items, but not all, hold down the CTRL-key and click on each item you want to select. This way allows you to select several different items). After you marked all items you wanted, click on "Open".

Click on "Import".

Click yes. After a little while you will be prompted to select a location to save your merged .package file. I chose again my folder "New CC" for that. And I named the file "CC_group_1", but of course, feel free to name your stuff into whatever you like. I just chose this filename as an example, for this guide.
Take note of the filesize, enclosed in a red rectangle. This means that the single file has basically all contents, from the other files.
I now take the file with the merged .packages, and put it into the location C:\Users\(your username)\Electronic Arts\The Sims 4\Mods. And from there, into a custom subfolder named "Test", but this is not obligatory. You can put the stuff straight into the "Mods"-folder too (for a general guide on how to put in custom content files, see 
this here
).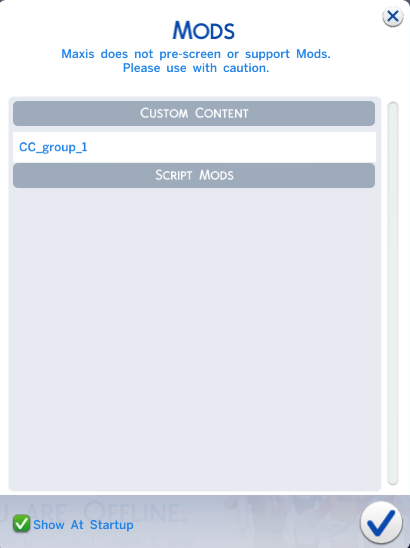 This is what I get when starting up the game. Confirm with the button it the lower right corner, and load your save. And that is it basically: all items that I merged into this single .package file, also showed up in my game.
Beware again: I suggest you only do this for CAS and Build/Buy-mode objects. And nothing else. I don't assume any liability if anything goes wrong for you there. 
Also keep in mind the possibility that at some point, the CC items might not work anymore due to some new patch "speciality" of EA. In which case you will need to remove the whole merged .package file again.
That is it from me - good luck for now.
DO NOT POST ANY QUESTIONS OR PROBLEMS IN THIS TOPIC. INSTEAD, PLEASE OPEN A NEW TOPIC IN THE APPROPRIATE FORUM-
SECTION, EITHER "THE SIMS 4 DOWNLOADS SUPPORT" OR "THE SIMS 4 IN-GAME SUPPORT"! THANK-YOU-NOTES CAN BE POSTED IN THE APPROPRIATE FORUM-SECTION, or directly under this thread.

Note that any and all questions posted under this thread, will be deleted without any explanation or advance warning. We have the Forum sections dedicated to Support purposes, for a reason.




The_gh0stm4n

G4TW RETIRED Gatekeeper
Inspector General / Security Attaché





Windows version

:

Windows 8
Windows 7
Windows XP
Windows 10




System architecture

:

32 bits (x86)
64 bits (x64)




Favourite games

: The Sims 3, L.A. Noire, Saints Row, Red Faction, Team Fortress 2, Overwatch, PvZ: Garden Warfare, Call of Duty: Ghosts, GTA: San Andreas, Counter-Strike, Hitman, Borderlands, The Binding of Isaac, Government simulation & Military strategy games, S.W.A.T. 4, GTA V / GTA Online, Red Dead Redemption II / Red Dead Online, Chessmaster XI, Monster Hunter: World, Paint the Town Red, Destiny 2, The Elder Scrolls Online.







Posts

: 18958


Points

: 25813


Join date

: 2012-11-02


Location

: Liechtenstein / Switzerland / Austria



---
Permissions in this forum:
You
cannot
reply to topics in this forum