Hello everyone!

Welcome to the brand new forum section "Games4theworld's Minecraft Server"! 
What can you expect to find in this forum section?

-News: We will keep you posted about upcoming events, and report on past events. We will let you know of any problems as well.
-Screenshots: If you've built something and you want to share, don't hesitate to post a screenshot of your creation. 
-Video's: If you've made a video while you were playing, please share.
-Questions: If there are any problems or questions, don't hesitate to post.
The server:
-We play the game in creative mode. This means you can build to your hearts' content, without having to worry about eating, dying, or monsters. But watch your step! There are areas in which you will be in survival mode, and the objective is to "get out".
-There are quite a few structures already, and those structures are in protected regions. This means you can't break, or build, in those regions. You'll notice you've entered an owned region if you receive a welcome message upon entering. The region owner can choose to make you a member of his or her region, enabling you to build or break in their region. 
-Players can build everywhere outside the regions. If you've built something, you may ask an administrator to protect the region.

The rules:
-The most important rule is "have fun".
-Don't abuse region owners' trust. If you use your membership to a region to intentionally break their stuff, you will be banned from the server and the forum. Accidents can happen though, so don't worry if you accidentally break something. Just be honest about it, and leave a message.
-No C-word. Use of the C-word is prohibited inside the server, as it is on the forum. We dare you to try it though! 

The team:
-
Admin
A.K.A.
Adminator, KingAdmin
-
SeoY
  A.K.A.
Dev
-
Edin ElDi
A.K.A.
Edin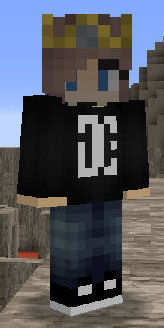 Serveraddress: n/A (as per 09-08-2018)
As always:

Do not post any questions in reply to this post! Open a new topic in this section instead.
Last edited by Edin ElDi on Fri 11 Mar 2016, 12:19; edited 3 times in total

☠ ~ Aɳɳ ~ ☠

G4TW SUPER Adminatrix
First Lady / Commander-In-Chief





Windows version

:

Windows 8
Windows XP
Windows 10




System architecture

:

32 bits (x86)
64 bits (x64)








Posts

: 15147


Points

: 21630


Join date

: 2011-05-31



Last edited by Edin ElDi on Fri 11 Mar 2016, 11:34; edited 1 time in total (Reason for editing : Fixed typo's :P)

Admin

G4TW RETIRED Adminator
GΛMΣ MΛƧƬΣЯ / Forum Founder





Windows version

:


System architecture

:

32 bits (x86)
64 bits (x64)








Posts

: 18884


Points

: 1027558


Join date

: 2010-03-12



---
Permissions in this forum:
You
cannot
reply to topics in this forum