Hello!
This introductory tutorial should give you some basic ideas about the things that need to be kept in mind when installing custom content for The Sims 2. In this "Part I" I'll be addressing issues about file formats, custom content types, folder locations and related stuff. I found the need for a more elaborate series of posts on this, because of the nuanced nature of The Sims 2. In the successor-games (TS3 and TS4) it's mostly enough to simply "look at the patch version of the game", but that alone doesn't work in The Sims 2.
I) What is custom content; what should I keep in mind when downloading them?
The Sims-franchise games always enjoyed a popularity, that has inspired some of its fans to come up with custom-made game content on their own. Custom-made items can include many things. Hairstyles, shoes/other clothing items, skintones, custom-made houses/sims, and even script mods that are able to influence/override existing in-game mechanics. If you think more closely about it, there is a dazzling variety of custom content on the internet. However, you should not assume that all these items will work flawlessly in your The Sims 2 game.
For starters you will save yourselves many difficulties later on, if you get used to not blindly adding masses of custom content that look shiny on the websites you get them from. The more items you add to your game in "one batch", the more difficult any troubleshooting will become. Try getting used to adding custom content slowly to your game, and over time!
In order to do that though, you'll need to download the custom content at first. Several questions you should be asking yourselves once you spot items you seem to take interest in:
  What expansions and stuffpacks does this particular piece of custom content need in order to function? Those of you who downloaded and installed Games4theworld's Complete Collection of The Sims 2, will have installed according to the recommended installation procedure. Namely all expansions and stuffpacks, so there shouldn't be an issue. However, some of you - especially those of you familiar with the technicalities of The Sims 2 - may have installed only a few of the expansions/stuffpacks. In those cases, one needs to pay particular attention to what expansions need to be installed, in order for the custom content to work.
  Where are "the folders for installing all the stuff"? Try getting used to basically two different "sets" of folders. One under C:\Users\(your username)\My Documents. And the other one under C:\Program files (x86). The former is relevant for all your savefiles, in-game screenshots and custom content - whatever 'personalization' is possible in the game. The latter location is the place where you typically install the actual game, and you generally don't touch that location, since there is barely anything of relevance for the average user to touch.
  What is the file ending of the custom content? Different file endings/file types mean different ways of applying/installing that custom contents. There are .package, .sims2pack, .sims2skin & .sc4 files. More on the technicalities about each filetype later on.
  Read the description of the custom content once more. What exactly does the custom content do? Is it a recolored item or a new mesh? A recolor is mostly a modified version of an already existing Maxis/EA game item, just with a different color/texture/pattern. A mesh is a new model, essentially. New hairstyles or clothes will typically have custom-made meshes. But that's not all. A custom content creator who is wise will try giving you additional information. Maybe you need other pieces of items to go along with the custom content to work properly. Maybe you will be alerted to other conflicts with other items, etc.
II) The downloads are in another file format though!
No, they most likely aren't, actually.
  Instead, many uploaders pack their custom content in so-called archive files, partly in order to reduce file sizes a bit, and partly to reduce the chances of any file corruption taking place. The most commonly used archive types are these:
  .7z: you will need to use the program 7-zip, to safely unpack these files. You can get 7-zip from 
this site here
.
  .zip & .rar: for these 2 types, you can safely use WinRAR to unpack them. Games4theworld also has the program WinRAR, and hence you can obtain it from the 
official site here
.
III) Are there several different "The Sims 2" folders under Documents?
There may indeed be. Have a look at the location here:
Look inside the folder there. Do you see any contents in there? If so, move all the contents of that folder, under another location:
C:\Users\(your username)\My Documents\EA GAMES\The Sims 2
. When prompted, choose "merge folders" and "replace files in the destination/copy and replace all files". Note, you should ONLY move the contents of the above folder, not the root-folder itself. Once you properly moved everything, right-click on this folder and select Properties.
Under the "General"-tab, please tick the boxes Read-only & Hidden. Click on Apply, and afterwards on OK. Done! This little excursion should get rid of any potential future conflicts of certain custom content not showing up in-game.
IV) Creating the Downloads-folder.
Look at the folder-location here very carefully.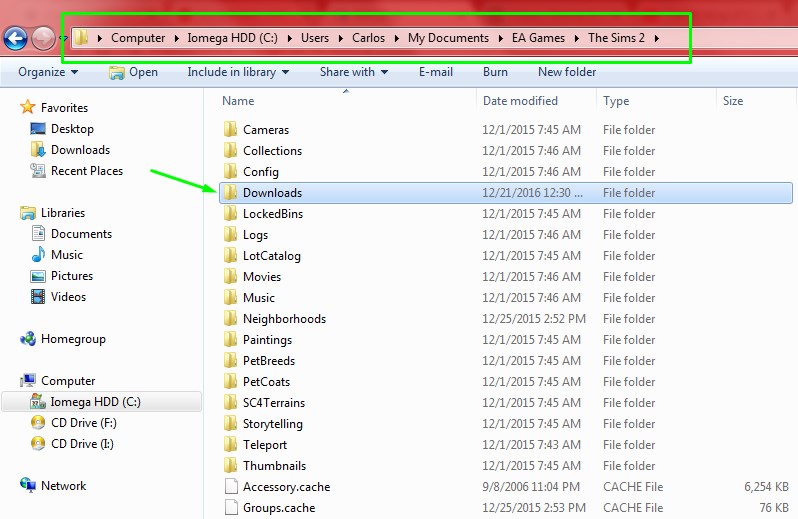 It is C:\Users\(your username)\My Documents\EA GAMES\Downloads. Now, even if you "start up your game at least once after installing", the Downloads-folder probably won't show up. Which is why you have to create it manually. Alternatively, if you start the "Bodyshop" at least once, this should also create the Downloads-folder.
Pay attention to the folder name, it's Downloads. With a capital "D" at the beginning and an "s" at the end. This Downloads-folder will be very crucial for you, when using custom content. More on that, later.
V) The 'Color Enabler Package'.
Remember when I mentioned "recolored items" before? In order to use those, you will need to install a little program though, which you can get on ModTheSims, here:
http://www.modthesims.info/download.php?t=92541
You will need to make an accoun on the site in order to download items there. But this little tool/mod, once installed, will enable you to make use of "recolors". For example, if you download makeup custom content for your sims, they may only be recolors of already existing items. In order to "activate" the new colors, you will need to install/apply that tool. If you installed the tool properly, you should get this little file under
Documents\EA GAMES\The Sims 2\Downloads
.
Don't be irritated by the fact that it says "Sims3package" here.
  This thing definitely works on The Sims 2. I don't know though, if it has any uses for The Sims 3.
VI) The Sims2Pack CleanInstaller.
In order to install .sims2pack files, you can either use the installer that comes with the game (simply double-click on .sims2pack files one-by-one in order to install those), or you can use various third-party tools. A commonly-used tool is the "CleanInstaller". You can get it from here:
http://sims2pack.modthesims2.com/index.php?page=3
If you install this tool, all .sims2pack files you may have downloaded already, should open with the program automatically. In case not, right-click on a .sims2pack file and go to "Open with...". Choose the CleanInstaller and confirm with OK.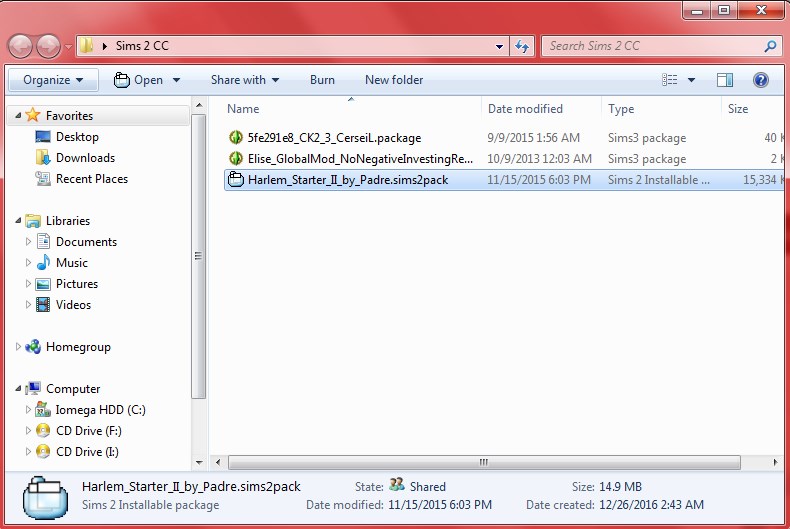 VII) Where can I start downloading custom content?
Some initial resources for you to check out could be...
http://www.jessamica92.com/p/resources-for-sims-2.html
http://www.parsimonious.org/sims2.html
https://www.tumblr.com/tagged/sims-2-custom-content
https://www.thesimsresource.com/downloads/browse/category/sims2/skipsetitems/1/
http://games4theworld.forumotion.com/t22179-the-sims-2-store-pre-order-items
 (---> for the store & pre-order bonus items of The Sims 2!)
This should do for the time being! Be sure to check out
Part II of the guide
as well.

The_gh0stm4n

G4TW RETIRED Gatekeeper
Inspector General / Security Attaché





Windows version

:

Windows 8
Windows 7
Windows XP
Windows 10




System architecture

:

32 bits (x86)
64 bits (x64)




Favourite games

: The Sims 3, L.A. Noire, Saints Row, Red Faction, Team Fortress 2, Overwatch, PvZ: Garden Warfare, Call of Duty: Ghosts, GTA: San Andreas, Counter-Strike, Hitman, Borderlands, The Binding of Isaac, Government simulation & Military strategy games, S.W.A.T. 4, GTA V / GTA Online, Red Dead Redemption II / Red Dead Online, Chessmaster XI, Monster Hunter: World, Paint the Town Red, Destiny 2.







Posts

: 18957


Points

: 25801


Join date

: 2012-11-02


Location

: Liechtenstein / Switzerland / Austria



---
Permissions in this forum:
You
cannot
reply to topics in this forum