FISHAO is MMORPG fishing game released on 2013 from the creator of MaffiaControl (GamoVation), which can be played from fishao.com 
Soooooooooo, let's see what do we have here?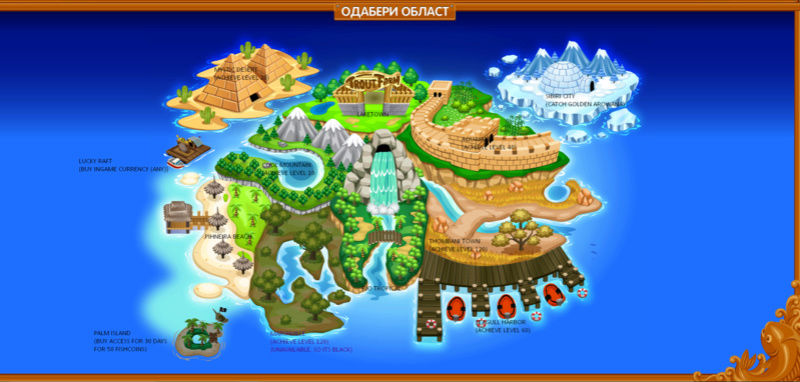 We have 12 different areas, which 2 aren't unlocked by me, and every 12 areas can be unlocked (Beach, Rio and Laketown are free) by buying some items, catching fish or achieving levels.
Every area has something special, e.g, the Laketown has Trout Farm, and Seagull Harbor has boats to be rent.
Let's see the interface of playing: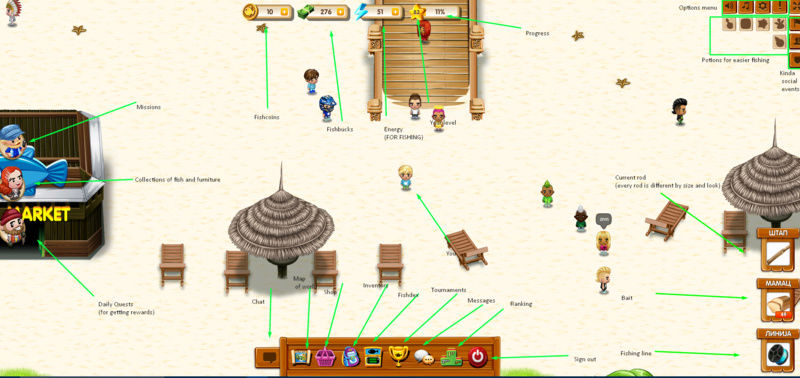 You can see the main interface. Daily quest includes simple quest for rewards, collections for fossils, fish and furniture, and missions. Fishcoins can be used to buy Palm Island or something in shop.
Fishbucks can be traded with other players.
Rods are requirement for fishing. We have bamboo rod, and dough and a fishing line, for my current equiepment. Fishing line can be upgraded to get bigger fish, but also better rod can help!
There are also fish clubs where you can fish with other players in club and compete in a tournament!
Let's see the housing system!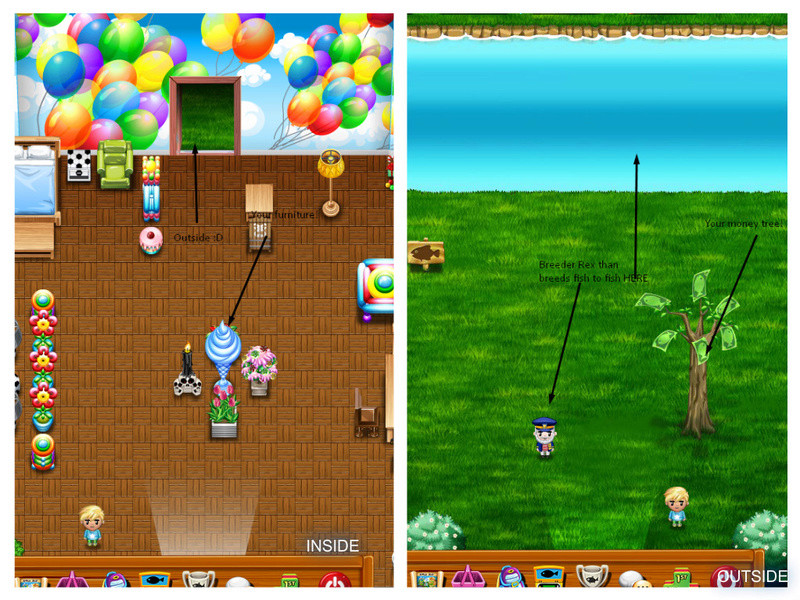 You can place furniture inside, you can breed your fish outside and get money!
Your friends can visit you by going to Rio Tropical, and entering the "FRIENDS" house, but they have to friend-request you by clicking your avatar > VIEW PROFILE > ADD AS A FRIEND.
In the store you can buy new rods, bait, fish radars, luck potions, EXP potions, power boosters, something for your character, magic clocks, shiny potions (LEVEL 120 AND UP, TALK TO SHINY AT MARSHVILLE!)
There are also events which you can participate, and get some fishcoins, and change your avatar in the options menu!
There is many many more to be discovered.
-------------------------
In my opinion, this game is worth trying even if you don't play games in browsers. As I said before, FISHAO is available at fishao.com!
Tell me below what do you think of the game! Happy fishing and tight lines!
_________________
   MilosGamerSRB  
 SIMS Series are king

MilosGamerSRB

Posting Freak





Windows version

:


System architecture

:


Favourite games

: PvZ, The Sims 3, The Sims 4, GTA, L.A. Noire, Fortnite







Posts

: 155


Points

: 1692


Join date

: 2016-06-08


Location

: Nowhere



It certainly looks cute, perhaps I will have a look at it some day

☠ ~ Aɳɳ ~ ☠

G4TW Super Adminatrix
First Lady / Commander-In-Chief





Windows version

:

Windows 8
Windows XP
Windows 10




System architecture

:

32 bits (x86)
64 bits (x64)








Posts

: 15147


Points

: 21486


Join date

: 2011-05-31



---
Permissions in this forum:
You
cannot
reply to topics in this forum