This is Sims 3 (Reloaded) with all expansions (Games4theworld) except Pets
So after 3 days and frustratingly long nights of tinkering and researching, i finally found out why my sims 3 wont run at startup. The launcher starts up but not the main app. At first i thought it was a problem with how i installed everything, but i tried almost every step and everything checks out with pretty much every install instructions i found here in the forum, and i think i've tried them all.
okay, to the solution..
GO TO > APPLICATIONS > The Sims 3 > The Sims 3.app (right click, show package) > Contents > INFO.PLIST (open this file in text edit)
And look for this line "C:\Program Files/Electronic Arts/The Sims 3/Game/Bin/S3Launcher.exe"
Then change "S3Launcher.exe" to "TS3W.exe" and save the document. But if you're only running on Sims 3 without expansions type this in "TS3.exe".
This is basically an optional missing step on the instructions for those having problems with starting up the game.
HAVE FUN! CUZ I KNOW I AM!  
THIS MIGHT ALSO WORK FOR THOSE WHO ARE GETTING THE "Sims 3 quit unexpectedly" CRASH AT STARTUP.
DO NOT POST ANY QUESTIONS OR PROBLEMS IN THIS TOPIC. INSTEAD, PLEASE OPEN A NEW TOPIC IN THE APPROPRIATE FORUM-
SECTION, "MAC SUPPORT"! THANK-YOU-NOTES CAN BE POSTED IN THE SECTION WITH THE SAME NAME.

Note that any and all questions posted under this thread, will be deleted without any explanation or advance warning. We have the Forum sections dedicated to Support purposes, for a reason.

FreeNoodles

Beginner





Posts

: 1


Points

: 3196


Join date

: 2011-11-06



hello everyone,
firstt, sorry for my bad english, i hope u all can understand what i mean, i'm not a native speak.
FYI, i'm using
macOS Sierra
version 10.12.6
Macbook Pro (Retina, 13-inch, Early 2015)
Processor 2.7 GHz Intel Core i5
Memory 8 GB 1867 MHz DDR3
Graphics Intel Iris Graphics 6100 1536 MB
and i already install WINESKIN WRAPPER & download all The Sims 4 file include Ultimate fix, and i already follow all instruction from G4TW, but i still have an error and i can't play The Sims 4.
i have windows parallel, but i don't want play in there, i'm so hopefully to play The Sims 4 on my mac not using window parallel.
so my problems is (take a look at picture i sent) everytime i launch The Sims 4 using my wrapper this always pop up
please help, i'm so desprated to play The Sims 4 on my mac
thanks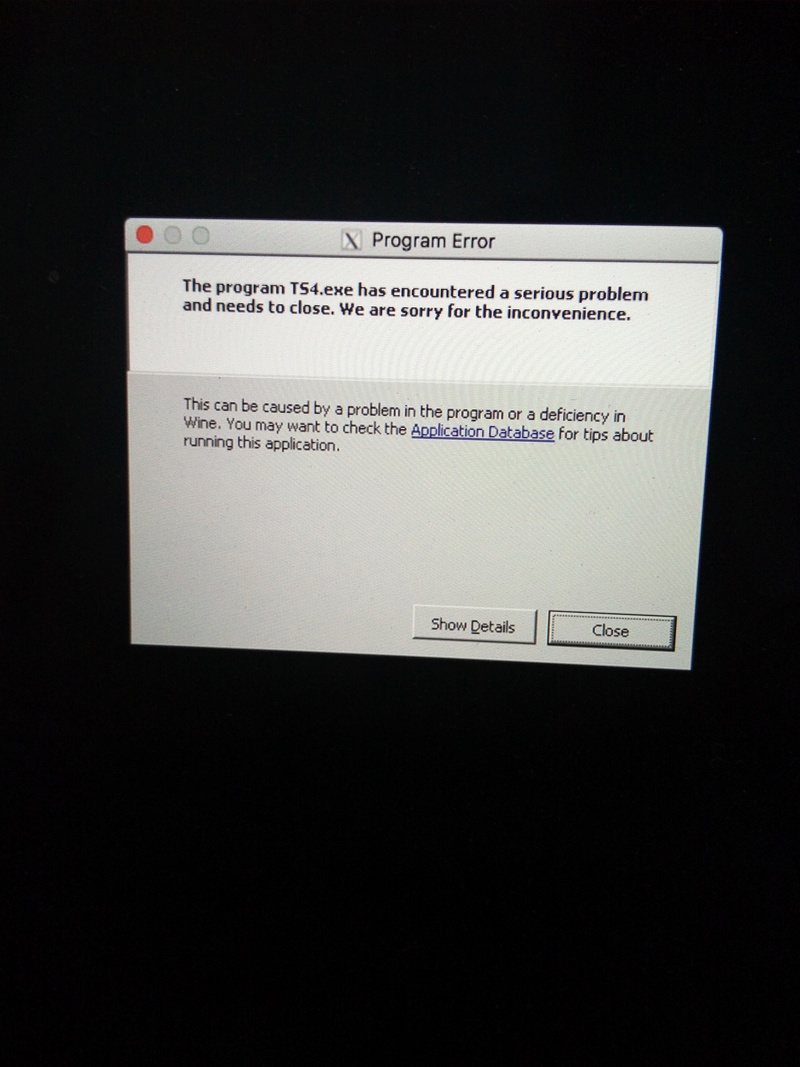 _________________
Give, and it will be given to you; a good measure, pressed down, shaken together, and running over, they will give into your bosom. For with what measure you measure, it shall be measured to you in return.
- Luke 6:38-

Needmorehelp

Posting Nerd





Favourite games

: The Sims 4







Posts

: 40


Points

: 1123


Join date

: 2017-08-25


Age

: 29


Location

: Indonesia



---
Permissions in this forum:
You
cannot
reply to topics in this forum