I am using Windows 10 Home.  64bit OS, 8GB RAM, 2.7GHz Intel, and ~30GB memory free.
I downloaded The Sims 3 Complete Collection.rar into a folder in C drive (not Program Files, but another folder I created for my games)
I opened it up using Winrar.
Everything seems to be there.
I go straight to the folder called The Sims 3.
I double-click Sims3Setup.exe.
It begins to install.
20 minutes later, it gets to 99%.
Then I get the following error: Cannot execute
**UPDATE**
I moved the whole thing over to Program Files (x86) just in case, but same error.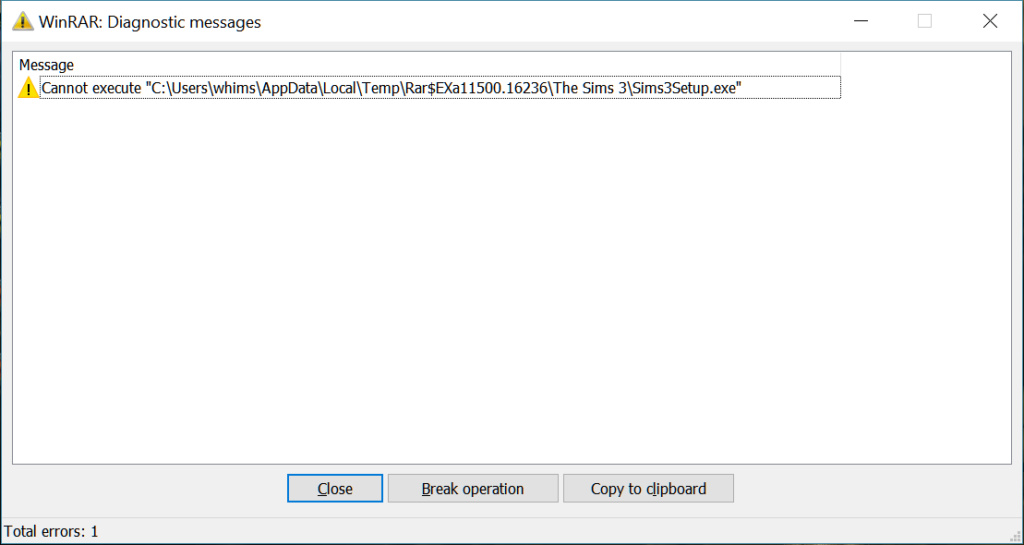 Last edited by minniemoo on Sat 22 Sep 2018, 23:41; edited 1 time in total

minniemoo

Beginner





Favourite games

: SIMS



Posts

: 3


Points

: 429


Join date

: 2018-09-19



Hello and welcome to the Forum,
One thing you can try is go under 
C:\Users\(your Windows account username)\AppData\Local\Temp. Delete ALL items inside the Temp folder, but not the actual folder itself.
You also need to mark the option that un-hides hidden folders here:
After that, try un-packing with WinRAR again.
Also, it's an idea to remove files or uninstall programs that you do not want or need anymore, from your C:\ drive.
_________________

Forum Rules // Forum FAQ // All G4TW Downloads // G4TW The Sims 4 Gallery Collection // How YOU can help seeding!

How to install The Sims Medieval // The Sims 2 Overview // How to install The Sims 3 // TS3 DLC install checklist // How to install The Sims 4

Feel free to e-mail me for general questions & site navigation on G4TW! NO GAME SUPPORT THOUGH.

The_gh0stm4n

G4TW Forum Gatekeeper
Inspector General & Sergeant-At-Arms





Windows version

:

Windows 8
Windows 7
Windows XP
Windows 10




System architecture

:

32 bits (x86)
64 bits (x64)




Favourite games

: The Sims 3, L.A. Noire, Saints Row, Red Faction, Team Fortress 2, Overwatch, PvZ: Garden Warfare, Call of Duty: Ghosts, GTA: San Andreas, Counter-Strike, Hitman, Borderlands, The Binding of Isaac, Government simulation & Military strategy games, S.W.A.T. 4, GTA V / GTA Online.







Posts

: 18054


Points

: 24429


Join date

: 2012-11-02



That worked!  Thank you!  But now I am having a slew of other issues.  I made another post for those.



Gatekeeper Edit: problem solved, topic closed.

- The_gh0stm4n

minniemoo

Beginner





Favourite games

: SIMS



Posts

: 3


Points

: 429


Join date

: 2018-09-19



---
Permissions in this forum:
You
cannot
reply to topics in this forum