Sigh,,, I knew I should have left the game alone, but after one tray file download too many telling me I need to update my game, I went ahead and did it. I have been playing with G4TW's version of the Sims 4 for almost a year now with not that many problems, but after inserting the August update in my game about two hours ago, it's been freaking out. I was trying to put down multiple lots and every time I do it freezes and there is a slightly dark blue overlay on my screen as seen in the screenshot I'm adding to this post. Sorry the snipping tool is blocking a bit of it.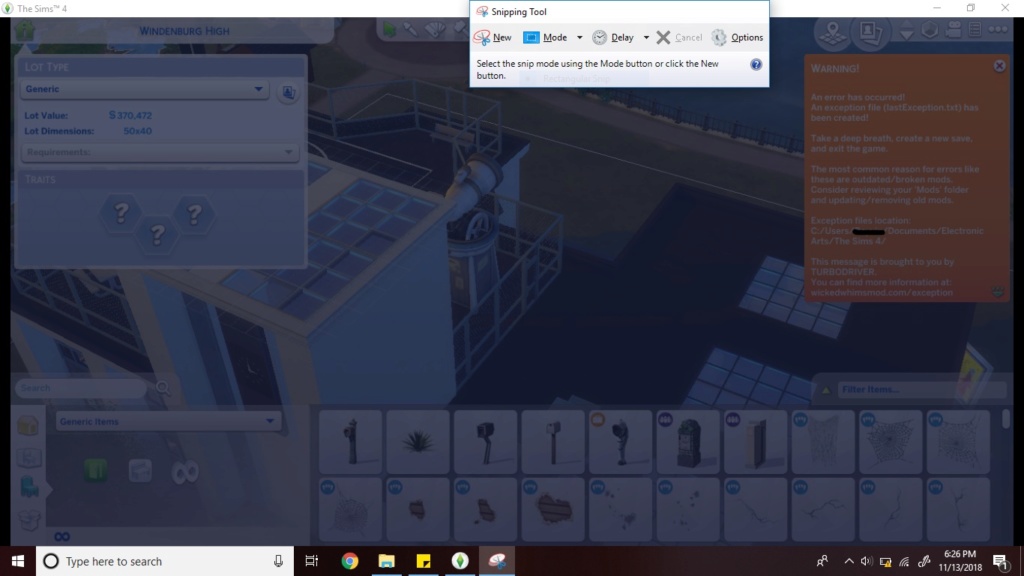 As you can see it always says that I have a last exception when I try. I can provide those text files if need be. I also have tried plopping down the buildings in both world view and on the lots themselves. 
Plus my game has been taking ages to load, though I had fast load times just before downloading. Heavens knows how it'll act when I actually try to play with my sims. 
Can anyone please help me with this?
Beginner





Favourite games

: The Sims 4



Posts

: 1


Points

: 226


Reputation

: 0


Join date

: 2018-11-14



Try starting the game without mods.
G4TW Forum Developer
Some kind of Einstein





Favourite games

: puzzle games



Posts

: 2031


Points

: 4816


Reputation

: 559


Join date

: 2013-07-01



---
Permissions in this forum:
You
cannot
reply to topics in this forum