How to use this wine wrapper
1) Unzip "Newest Wrapper for TS4.zip" and drag "The Sims 4 wine wrapper where you want to keep your game, usually your Applications folder;
2) Drag "The Sims 4" folder -the one inside
your previous wine wrapper
- to the desktop so you can get it easier;
3) Control+click on "The Sims 4" wine wrapper > Show Package Contents;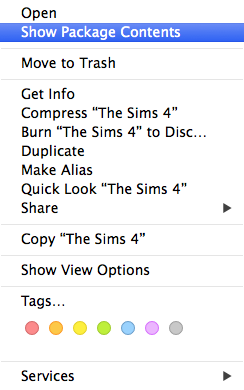 4) You'll have this:
5) Drag "The Sims 4" folder with all the updates and patches inside drive_c/Program Files, like the image bellow;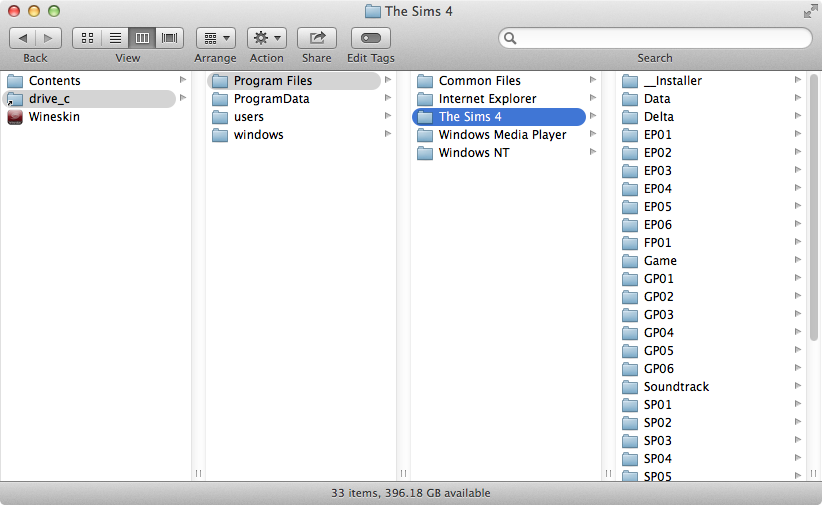 6) Double click Wineskin -the red square icon inside "The Sims 4" wrapper-, you may encounter this warning, click open to continue:
7) Click Advanced, go to Configuration and if the path on Windows EXE: is different than the one on the image bellow, browse to where the TS4.exe is located (if you did everything right, the path is the same as this one) and select it. Your path should look like the image bellow.
9) Run the game "clean" the first time around. It will create all necessary files inside your Documents/Electronic Arts/ and after you see that the game runs you can drag your Tray & Save over to this newly created one.
How to run the game "clean"
    a)    Find your The Sims 4 folder inside the .../yourusername/Documents/Electronic Arts folder;
    b)    Drag it out of this folder or rename it something else like "
The Sims 4 OLDER
;
    c)    Run the game and let it create a new The Sims 4 folder with all the necessary files.
    d)    Move or copy your Save folder (the one you renamed or moved somewhere else) to this newly created folder. Move or copy also your Tray folder;
    e)    Run the game, see if everything works, load a lot or family, etc;
    f)    Move Mods folder last, run the game, see if everything works once again.
10) Enjoy!

What's running on this wrapper:


Wrapper version: Wineskin 2.8.8Beta2

Engine: WS9WineStaging3.19

vcrun2012

vcrun2013

api-ms-win-core-path-l1-1-0 (native)

windows 7

Download link
Mirror 1
Mirror 2
Mirror 3
You may need to run the game twice for all the expansions to show up. Don't panic if only the base game loads. Exit the game and open it up again. All packs will show up.
If for some reason your game is not loading or if you have an error after following the steps above, please check
this thread
to see if someone with a similar problem already found a solution.
Sierra, High Sierra and Mojave
users: be aware that mac OS gatekeeper can prevent you from installing software, so please do a search on "How to Disable Gatekeeper" to learn how to fix that. SIP (System Integrity Protection) while very important can also give you a headache when trying to run Wine wrappers or pirated games in general, so check your system to see if that could be the reason why the game is not launching.

User09

G4TW Forum Developer
Lady of the Golden Apple





Favourite games

: GTA, Mafia II, Catherine



Posts

: 92


Points

: 1097


Join date

: 2017-04-18



---
Permissions in this forum:
You
cannot
reply to topics in this forum