This message keeps popping up on all expansion packs when i try to install them. i installed the base game okay. followed all the instructions multiple times as ive had a lot of issues trying to download the complete collection of the sims 3. downloading on a mac.
please help as ive been trying to download the sims for a couple of days now and i just wanna play the sims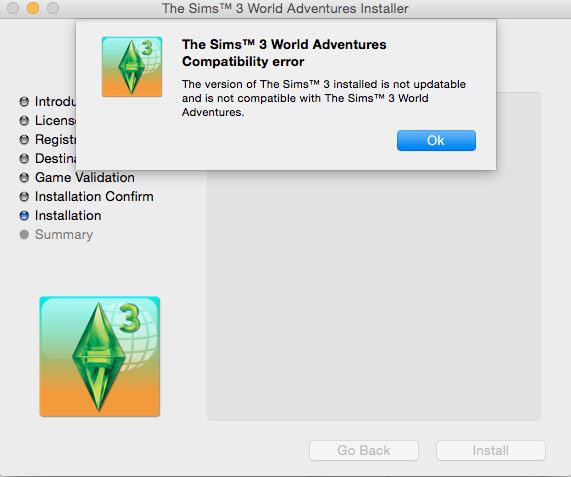 beanz

Beginner





Favourite games

: Sims 3



Posts

: 1


Points

: 512


Join date

: 2019-01-06



You won't ever get it to run under MacOS, because it was never made to run natively on a Mac, the Windows version was simply emulated (extremely badly). You could Google 'Bluebell Flora's The Sims 3 MacOS Installation Guide' and see if that helps (this is my first post, so I can't post links yet) but I never could get it to run, so I bought Parallels and installed Windows 10. 

To all intents and purposes The Sims 3 is a Windows-only game.



Gatekeeper Edit: moved.

- The_gh0stm4n

Gaia-Sophia

Beginner





Favourite games

: Sims



Posts

: 2


Points

: 511


Join date

: 2019-01-08



There is also a guide stickied under "Mac OS Tutorials" here:
https://www.games4theworld.club/t29480-new-the-sims-3-mac-guide-out-now
Though I can't really say much more beyond that, as I don't know much about Macs. 

The_gh0stm4n

G4TW RETIRED Administrator
General of the Armies / Gatekeeper





Windows version

:

Windows 8
Windows 7
Windows XP
Windows 10




System architecture

:

32 bits (x86)
64 bits (x64)




Favourite games

: The Sims 3, L.A. Noire, Saints Row, Red Faction, Team Fortress 2, Overwatch, PvZ: Garden Warfare, Call of Duty: Ghosts, GTA: San Andreas, Counter-Strike, Hitman, Borderlands, The Binding of Isaac, Government simulation & Military strategy games, S.W.A.T. 4, GTA V / GTA Online, Red Dead Redemption II / Red Dead Online, Chessmaster XI, Monster Hunter: World, Paint the Town Red.







Posts

: 18943


Points

: 25577


Join date

: 2012-11-02


Location

: Hermit Kingdom



---
Permissions in this forum:
You
cannot
reply to topics in this forum