I have the sims 4 (all packs from here etc.) +the last update
And whenever I try to open game and play it, it gets 1-2 sec through part of the intro then says:
"A problem caused the program to stop working correctly. Windows will close the program and notify you if a solution is available."
I have tried to reopen it several times and it just says the same thing. "I not have custom content or CC or mods !" nor save files.
I've played this game here 2 years, on the same computer and everything worked earlier. Now i downloaded new update and it no longer works
I have already updated all computer drivers, disabled anti-virus and everything. I moved the folder "The Sims 4" desktop, i dont hawe Origin based game, i white listed Sims 4 in Microsoft Secuirity , etc!
[ I have Windows 7 Professional 64bit SP1, 8GB Ram and Intel(R) Core(TM) i5-4200U CPU @1.60 GHz  2.30GHz ] - i have 250GB free space.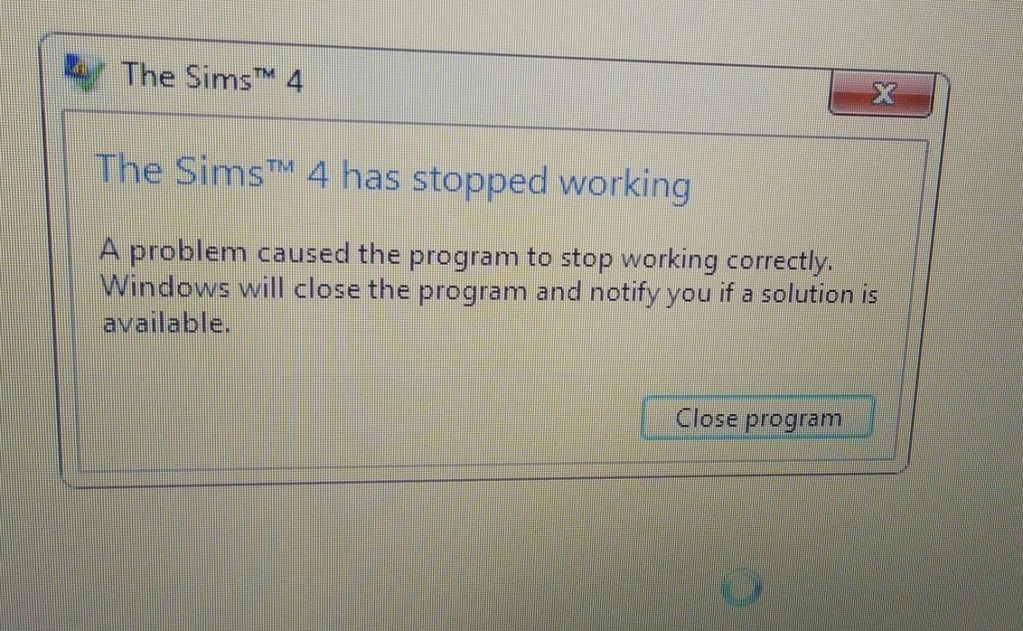 Kittekassitar

Posting Nerd





Windows version

:


System architecture

:


Favourite games

: Sims 4, Fallout 4, Skyrim, Planet Zoo, Tropico 6, Prison architct, Witcher 3, Assassins creed Odyssy, The Long Dark, ...







Posts

: 49


Points

: 1110


Join date

: 2017-08-16


Age

: 40


Location

: Finland-Estonia



I took the computer for repairs, i boughth and installed new win 10 and game from the beginning again - and it works now! The error for old win 7 is still unknown. Thank you all for your help and advice !!! I'm so happy now 
_________________

Kittekassitar

Posting Nerd





Windows version

:


System architecture

:


Favourite games

: Sims 4, Fallout 4, Skyrim, Planet Zoo, Tropico 6, Prison architct, Witcher 3, Assassins creed Odyssy, The Long Dark, ...







Posts

: 49


Points

: 1110


Join date

: 2017-08-16


Age

: 40


Location

: Finland-Estonia



---
Permissions in this forum:
You
cannot
reply to topics in this forum